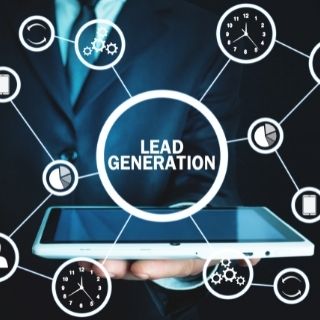 Lead Generation is integral to any business and a crucial part of sales generation. A well thought out strategy is the key to bringing in sales. At Ads Conversions, we offer accurate marketing solutions to receive, analyze & optimize for qualified leads. We service brands and professionals, all across the globe, to generate high converting B2B as well as B2C leads. ​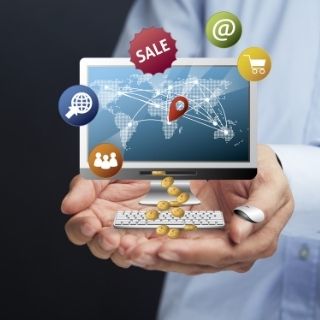 In today's time if you are selling a product or services, you need to have a well formulated online advertising framework and strategies. We at Ads Conversions, provide all-round, solid growth oriented online advertising services across all popular social media channels, search & display advertising platforms and facilitate you with higher conversions and in-turn revenue.​
Social Media Advertising​
Your buyers scroll through multiple social media platforms every day, several times. Among thousands of content a person consumes each day, it is very important to present yourself with high quality content which stops thumb and this is what we, at Ads Conversions, provide to brands working with us.

We expertise in paid ad campaigns for all type of objectives; leads, purchase, awareness, installs, etc. on Google, Facebook, Instagram, Twitter, LinkedIn, YouTube & other leading social media platforms.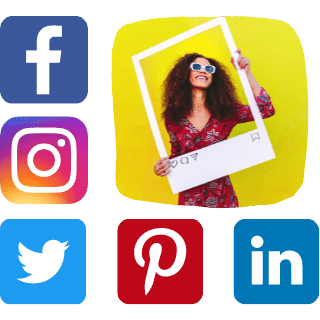 As the largest social media platform in the world, it's safe to say that Facebook is a reliable choice when deciding where to advertise. Facebook is popular among a wide variety of demographics, including gender and age, which means there's a good chance your target audience is engaging with the platform, too.

Plus, Facebook advertising allows merchants to target customers by location (within a 5-mile radius), occupation, interests, past activity and several other valuable data points.

Pricing for Facebook ads varies depending on several factors, including the audience you're trying to target and the budget you set for your ads. However, as a rule of thumb, the more ad spend, the more efficient Facebook's algorithm becomes at spending your money and increasing your ad performance over time.
Build brand awareness: Increase your reach and get your products in front of potential customers.
Consideration: Direct traffic to your website, harness lead generation through opt-in emails, blog posts and content and reach out to potential customers through Messenger.
Conversion: Set up a Facebook Shop to give customers a more seamless shopping experience, drive traffic to both your online and brick-and-mortar stores and increase conversion rates.
Known for its glossy photos and videos, Instagram is an ideal platform for brands with products that are visually appealing and easily incorporated into visual media.

Plus, with an engagement rate 58% higher than Facebook's and 2,000% higher than Twitter's, Instagram holds a massive user base, although one that's largely younger than other advertising platforms.

So, if your business and target audience fits both of those characteristics, Instagram advertising might be the best option for you.
Organic posts, stories & reels can be great ways to boost traffic to your website.
Instagram ads can be directly linked to your product page or another landing page, allowing for quick and easy engagement with your products. customers through Messenger.
Instagram's special efforts to push short video platform- Reels can be a great source to boost website traffic and conversions.
As the go-to platform for discovering breaking news and engaging with small- and big-name influencers, Twitter has been one of the most popular social media channels since its launch in 2006.

Twitter advertising offers two options for brands to create ads:

1. Quick Promote: Twitter automatically promotes Tweets to your target audience. All you have to do is choose a promotable Tweet from your timeline and specify your target audience, and Twitter will do the rest of the work for you.

2. Twitter Ads: These ads are objective-based, meaning you first have to choose your preferred business objective, and Twitter will only bill you for actions that align with your goal.
Lower cost per click & lower advertising competition makes twitter ads lucrative.
Tailored audience structure makes targeting better where you can target twitter handles directly .
With Twitter advertising, you can remarket to people who recently saw or engaged with your tweet.
Twitter charges you when your have achieved your marketing objective
As the world's largest professional network, LinkedIn holds a large professional user base and is able to target customers based on job qualifications. Thus, LinkedIn advertising is largely geared toward a corporate audience.

Considering 69% of LinkedIn US users earn $50,000 or more per year, this platform tends to hold the highest average disposable income and high-quality leads in certain industries.

However, unlike most other platforms, which focus on B2C advertising, the nature of LinkedIn makes it better suited to B2B advertising campaigns. So, service businesses and B2B product businesses tend to get better results on LinkedIn than other platforms.
Like Instagram, Pinterest is a highly visual platform, decorated with whimsical wedding photos, cooking videos and fashion reels. But with that being said, Pinterest is largely geared toward women with a 71% female user base.

Considering Pinterest users intentionally use the platform to find and purchase products, Pinterest is one of the most ideal platforms for social media advertising. Promoted pins easily blend into the Pinterest boards without distracting users like some other platforms do. In fact, 85% of weekly Pinners have made a purchase based on Pins they see from brands.
Especially beneficial for ecommerce retailers
Pinterest has a highly targeted search engin
Brands can advertise their products by promoting their highest-performing pins.
Want to improve conversion rate of your Facebook Ads?
Search behavior is shifting. Google empowers your potential customers to make the most informed decision before they call, buy or convert.

Our job at Ads-Conversions is to identify these behaviors and segment customers into audiences, based on intent. By efficiently using the advanced advertising platform provided by google, smart audience identification & keyword identification, we ensures better visibility, reach and in-turn conversion.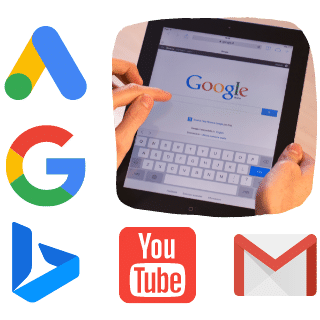 Google Ads operates under a pay-per-click (PPC) model. That means marketers target a specific keyword on Google and make bids on the keyword — competing with others also targeting the keyword.
• Display Ad Campaigns– Google has a network of websites in various industries and with an array of audiences that opt in to display Google Ads, known as the Google Display Network. The benefit to the website owner is that they're paid per click or impression on the ads. The benefit to advertisers is that they can get their content in front of audiences that are aligned with their personas.

• Video ads Campaigns– These are displayed before or after (and sometimes in the middle of) YouTube videos. The right keywords will place you in front of a video, disrupting the user's behaviour just enough to grab their attention.

• Search Ad Campaigns– Search ads are text ads that are displayed on Google results pages.

• App Ad Campaigns– Google App Campaigns promote your mobile application through an ad displayed on Google Search Network, YouTube, Google Play, Google Display Network, and more. You can run ads that encourage your audience to install your app or, if they already use it, to take a certain action within your app.

• Shopping Ad Campaigns – Instead of marketing your brand as a whole, Shopping Ads allow you to promote specific products and product lines. That's why, when you search for a particular product on Google, you'll see ads for different brands pop up along the top and/or side.
Search engine optimization​
ADS Conversions is a specialist digital marketing firm, offering ethical SEO services to give businesses a strong web presence. We have customized, targeted and turnkey SEO marketing strategies in place to help you accomplish good ranking on search engines. Our SEO strategies help in maintaining high visibility within respective target markets and demographics.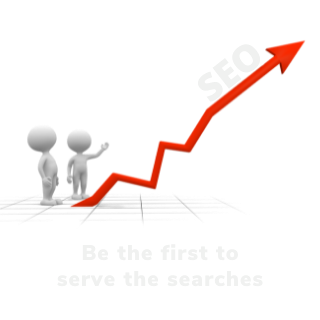 • Get found by potential customer over top of organic results
• Target Highly conversion able keywords through organic presence
• No limits of keywords, rank your business over unlimited keywords
• Professional team of SEO experts, Deep understanding of Google Algorithm
• Ethical optimization techniques for long stability of SEO results
• Love to work with small, medium and large enterprises
Digital branding is about establishing your brand's story and presence in the digital space. Digital branding is the key to establishing a meaningful connection with your target audience. It's about using your unique proposition to differentiate yourself and your offerings from the competition.

Thumb-stopping creatives, hooking ad copy, laser-focused audience targeting & higher ROAS to maximize profits is what we hold expertise in.
• Logo design
• Thumb-stopping ad creatives
• Hooking ad copy-wirting
• Graphics design
• Video editing
• Content writing and more..
Online advertising strategy & consultancy
Digital Marketing Management
We identify the most effective ways of advertising or marketing companies' products or services using various digital technologies.

We develop customized digital marketing strategies, suggest improvements to existing strategies, and identify opportunities to increase customer engagement.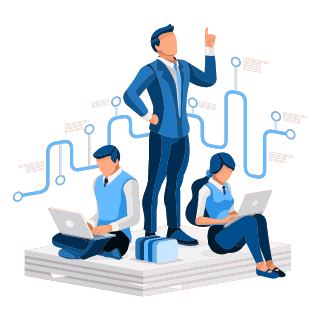 How we can help your brand!
• Create cased-based, customized, growth oriented digital marketing plan.
• Create high performance marketing funnels.
• Get high quality leads at optimum cost.
• Increase brand's visibility and awareness.
• Restrict conversion leakage.
• Recover lost sales, and much more..
If you are looking to improve your online sales or generate more leads, we can be a perfect partner!